Here is a list of the present members of our club, Sasebonians, in Yahoo. There are names on the roster that whose identities are unknown at this time. For those of you unknown entities that would like to be listed here please update you profiles and we will will gladly add you.
*note: Some Yahoo members have not activated their Yahoo addresses to recieve emails. The Yahoo names can be used on the Instant messenger program to contact members.
William Archer: archer92115@yahoo.com, balance@ixpres.com
Susan Barbee: susano106@yahoo.com, susanbarbee@aol.com
Barbara Blowers: msbblowers@yahoo.com
Larry Brining: oldimage@yahoo.com, bugs@net1plus.com
Jane Carter-Bentley: bogart106@yahoo.com, Bogart106@aol.com
Patricia Carter-Hoover: paticarter75@yahoo.com
Gary Chaffin: garncy_32244@yahoo.com, garncy@bellsouth.net
Roy Chin: hroychin@yahoo.com, royal-lily@dollars4mail.com
Frank Childers: chiliste@yahoo.com, wfcbc@netzero.net
Arlene Coe-Garner: abgwiz@yahoo.com
Steve Crowe: Stevecrowe75@yahoo.com
Joey Disque: joeydisque@yahoo.com, danielsdad@peoplepc.com
Cindy Easley-LaVigne: c_a_easley@yahoo.com, TLAVIGNE@aol.com
Ed Farris-Nagatome: SamuraiTI@yahoo.com, SamuraiTI@aol.com
Susan Gile: suegile@yahoo.com, gilesisle@home.com
Jane Godsoe-Weiner: jgodsoe_75@yahoo.com, fdjweiner@iquest.net
Sue Graves: detective38@yahoo.com
Elaine Hackett: ehackett_98155@yahoo.com
Teresa Hackett: hackett_t@yahoo.com
Cindy Hathaway-Dever: Cindea42@yahoo.com, Cindea41@aol.com
Cheryl Hathaway-Kuder: Clk1011@yahoo.com, CLK101@MSN.com
Brenda Holloway- dePriest: myokie_brenda@yahoo.com, Myokie_brenda@msn.com
Ginger Holloway-Lyons: lyonsden_1999@yahoo.com, lyonsden@pldi.net
Charles Huddleston: huddleston_homes@yahoo.com, charlesh@ntin.net
Darlene Huggins-Neher: darneedsalife@yahoo.com, darneedsalife@home.com
Mary Huggins-Torpey: maryhugginstorpey@yahoo.com, MMTorpey@aol.com
Earle Irwin: Earleirwin@yahoo.com
Bennett Johnson: benjo_boy@yahoo.com
Joyce Johnson-Patton: joisu_j@yahoo.com
Sharron Johnson-Minchella: sharronej@yahoo.com, pilgrims@jps.net
Wendell Johnson: mrjsasebo@yahoo.com
Linza Jones: linzaj@yahoo.com, ljjj@coserve.net
Barbara Jordan: bjordan@yahoo.com, Bjor@Lascampanas.com
Lynda Klorig-Kuhn: lynda_70_2000@yahoo.com
Michael Klorig:chokai_2000@yahoo.com,
michael.d.klorig@lmco.com
Mark LaRoux: arcantha@yahoo.com
Barbara Linner: barbaraliner@yahoo.com
Dean Linner: Dean_Linner@yahoo.com, Videos@gulftel.com
Debbie Linner-Haire- debbielinner_haire@yahoo.com
Jun Medina-Stewart: ujvs30@yahoo.com
Angel McCollum-Tessier: angelt_in_florida@yahoo.com
Richard McCue: mctank_99@yahoo.com, tankcue@aol.com
Frances McFarland-Yamaguchi: francesmc_74@yahoo.com, anakela56@hotmail.com
Rob McMurray: robautodoc@yahoo.com, robautodoc@aol.com
Marian Muszynski-Costlow: marian77_2000@yahoo.com, Scrpio279@aol.com
Susan Robinson-Holman: sholman121@yahoo.com, Sholman121@aol.com
Robert Rohrbacher: rotor92021@yahoo.com, robertjustthree@aol.com
Jack San Filippo: flip_55446@yahoo.com
Frances Shannon: frances_92840@yahoo.com
Fred Schumann: fschumann@yahoo.com
MaryAnn Schumann: maschu1999@yahoo.com, Maschu@aol.com
Doug Smay: doug_smay@yahoo.com, dsmay@san.rr.com
Sandy and Phil Smith: sandyesmith@yahoo.com
Barbara Tucker: btucker65@yahoo.com, btucker65@msn.com
Johnny Walker: jwblacklable76@yahoo.com, johnnywilliam@webtv.net
Linda Walker: linwalk_2000@yahoo.com, sake1@madiaone.net
Patsy Walker-Stocks: patsychan_31522@yahoo.com
Keith Zetsch: keithzetsch@yahoo.com, kjzs56@cs.com
Joe Zuilkoski-Williams- Bigtime619_1999@yahoo.com, Bigtime01@aol.com

WELCOME NEW MEMBERS!

Hello to Sue Graves, who with her brother Tom lived in Sasebo during the late 60's and early 70's. She started school at EJ King and her brother graduated from there. She is married and residing in Florida and has made some very interesting postings on the board of Sasebonians which has jogged many of our memories of living in Sasebo. These reminiscings are too long to post here, but can be found in the Soap Box Derby on this website. Thanks for the memories, Sue! Keep bringing them up!
Welcome to Ed Farris who joined the Sasebonians on June 26th. He has had a very busy and exciting life these past twenty years or so....I'll let him explain in his own words!
YES. The rumor is true. I do work for THEM! Ed Farris' cut his hair and joined the authoritarian regime. I've been with the forensic services section of the Kern County Sheriff's Department for some time now. That's one county North of LA County. I used to work in LA, but just didn't care much for the traffic jam. I am not a sworn cop though. I am what they all a civilian specialist in the lab... known as "Technical Investigators or TI." Actually, I am wearing three hats here. I'm with the crime scene unit (for homicide, clandestine drug lab, etc.), the computer forensic lab. (for data recovery of deleted/encrypted files from reformatted hard drive and such...but sometimes we play cyber-cop and actually chase the suspects in the cyberspace back to the originating ISP. That cyber car chase stuff is actually pretty fun!) Finally, I also teach at the Police Academy through the local Junior College. On the personal note I've been happily married for some time now. Vicky, who I met in college and I am blessed with two wonderful boys... Andy 12, and Jarrett 6. Now that I know about the Sasebonian club, I'll keep in touch.
Sore de wa matta.
BTW, I changed my last name from Farris to Farris-Nagatome. It seemed to define myself better. My kids are just Farris.
Eddie Farris-Nagatome


Welcome to Dean Linner, who joined us on June 19. Dean is residing in Alabama with his wife of 24 years, Bhey (BAY) who hails from the Phillipines. They have two sons, Dennis and Daren who are 22 and 20. They also have an adorable granddaughter, Dejia who is 1 1/2. After closing his maintenance shop in Virginia Beach, Va. they moved to Alabama where Dean is in aircraft maintenance. Dean was stationed in Japan with the Navy for 14 years.




One of our "silent" majority has come to life! We had a chat with Linza Jones Wed. evening and here is a little of what his life is all about now!
Linza resides in Dallas, Texas with his wife of 12 years, Wendy and two children, Amanda and Trey. (Trey is the third generation of "Linza"!) Linza is a sales rep for BC/BS and does a bit of traveling.

And now, Steve Crowe has joined our ranks by registering thanks to Mary Huggins' pc! Steve is a conductor for Union Pacific Railroad and resides near Mira Loma, Ca. He is married and has 5 children ranging in age from 2 to 23. Steve is also the proud grandfather of a two year old boy. Glad to have you back with us, Steve.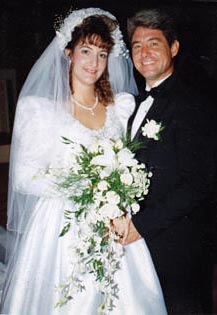 Steve and Beth Crowe 1992
Mr. Wendell Johnson has joined us recently. He is STILL living in Sasebo! "Our Old Art Teacher" is going strong and keeping up with the times! He is teaching Visual Basic Computer Programming in the Distance Learning Center, a new department of DoDDS. He has 57 students in 21 schools all around the world!
He has a trip to San Diego planned from June 29 ~ July 20 this year! (right dates, wrong year, Mr J!) So maybe some of you "natives" can arrange a gettogether!